An exciting new addition to the world of horse racing is set to be launched on April 14th 2018.
After the sad demise of the independently produced Racing Plus newspaper at the end of January, Greenways Publishing are delighted to be launching The Racing Paper on Saturday 14th April to fill this void – perfect timing for The Grand National…
Priced at £1.90 and to be published every Saturday morning throughout England, Scotland and Wales, The Racing Paper previews all Saturday and Sunday horse racing and features a special pull-out section for sports betting across the board.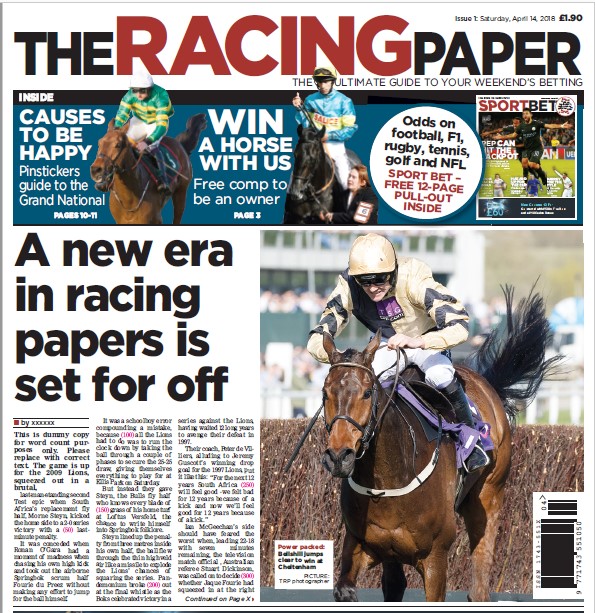 The Racing Paper will be the must-buy companion for horse racing and major sports betting. A comprehensive 52-page racing section brings expert analysis from our tipsters plus big-name interviews and columns, whilst 12-page Sport Bet section, features exclusive column on football betting from Michael Owen plus other leading personalities from Cricket, Golf, Rugby, Tennis, Motor Racing, American Football and much, much more.
Managing Director and Editor-in-Chief David Emery, former head of sport at Express Newspapers, said: "We have been considering a racing newspaper for a number of years. With recent changes in the market, such as the loss of Racing Plus, and the 20% increase in cover price of the daily publication, The Racing Post (from £2.40 to £2.90), now seems to be the perfect time to fulfil our ambitions. The launch also complements our existing racing coverage via our monthly magazine, Racing Ahead."
Trade Marketing Manager, Neil Wooding, added: "Greenways Publishing are a growing sports media company who are passionate about sport and we look forward to growing our media portfolio through both the launch of The Racing Paper and through future acquisitions. Any interested parties should contact myself in the first instance to explore opportunities."